Experience a showroom like no other
A showroom designed to impress and inspire! Our latest commercial project, the Hart & Co. showroom is full of the latest appliance technology and fit-outs and we've applied lighting in a way that immerses you in the showroom experience.
One crucial design aspect of this project is the lack of a ceiling. Working with a raw warehouse roof, we had to incorporate lighting with a suspended approach. This gave us the chance to have a more unique and creative way of applying the lighting.
Impact and Guidance
As you enter the showroom you are instantly impacted by the cluster lighting of the suspended Line Opals. Scattered throughout the ceiling space, the Line Opals lead your eyes through the showroom and down into the next section of the showroom floor. This technique has been used through the entire showroom, guiding the customers through each section, whilst illuminating the products and the showroom floor.
Ambient Lighting
As you enter the active kitchen display of the showroom, a low ceiling is present. To compensate for this, we used the Edge 100 downlights to provide ambient light. These downlights feature a shallow heatsink and a deep set baffle, which allowed for a seamless lighting solution.
Whilst exploring each part of the showroom you will notice our Core 70 Tracks, which have been used for both ambient and task lighting. The Core 70 Track was perfect for this application, as it can adjust up to 90° and rotate up to 350°, giving us complete control on where we wanted to direct the light emission.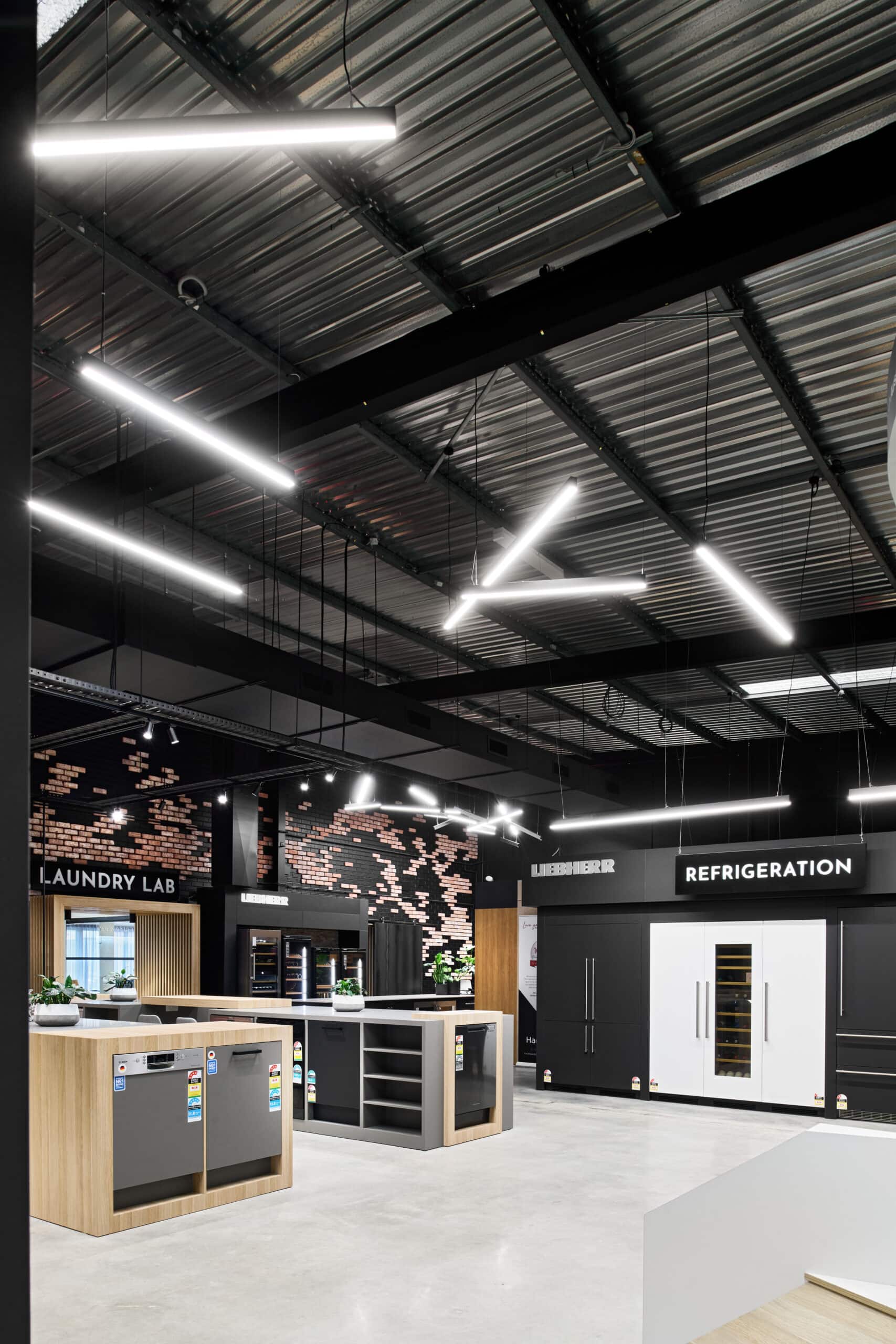 Seamless Design, Entry Way Lighting
As you enter each new section of the showroom, you walk through a wooden entry way, a unique and decorative entrance to each section. Constructed of wooden slats, we needed to apply lighting that was seamless and didn't take away from the wooden design. We opted for the Core, it's seamless canopy design allowed for an easy install and the simplistic contour of the Core doesn't disrupt the lines of the wooden slats.
Linear Outdoor Lighting
On the outside of the showroom we have used the Flow LED Strip, with it's IP67 rating and it's smooth glow, it was an easy choice for illuminating the building's exposed brick feature outside.
Products
Featured Products
We're in Perth!
Our Showroom Opening Hours
We're open 8am – 5pm Monday to Friday and 8am – 12:30pm on Saturdays.
Our lighting consultants are always available during these hours to help you with any solutions you may need.
Need help? Read our FAQs here
MAKE AN ENQUIRY
Welcome
Create your Faze Lighting account by entering your details below